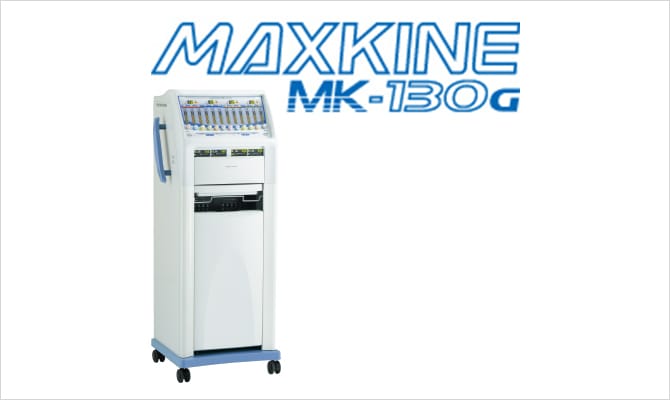 Cutting-edge low frequency therapy unit of point stimulus, loaded with new functions and a wide variety of modes, is gentle not only to those performing the treatment but to the patients as well.
Characteristics
High voltage treatment modes supporting treatments in a rich variety of modes
Increase in safety by selecting treatment electrodes from a rich lineup
Treatment display LED tower by which the end of treatment can be confirmed at a glance
Many new functions to support the flexible setting of groups and ease of use, depending on the treated area
Supports treatment in a rich array of modes with a wide variety of compact and gentle designs
Supports treatment in a rich array of modes
Normal
Outputs set treatment frequency. If rest time is set to 0, it will run continuously.
Sweep
The frequency moves between the 2 treatment frequencies (upper and lower) set.
Mix
It alternately outputs the 2 treatment frequencies (upper and lower) set.
Rhythm
The treatment frequency changes rhythmically.
Auto A
Outputs a combination of normal/sweep/mix.
Auto B
This is a mode that causes a low level of unpleasantness in the surface of the skin (pain)and there is a large feeling of contraction in the deep areas of the muscle tissue. By simultaneously outputting high frequencies and low frequencies consecutively in a rhythmically changing way, the treatment benefits promise to be both speedy and durable.
Auto C (sequential mode)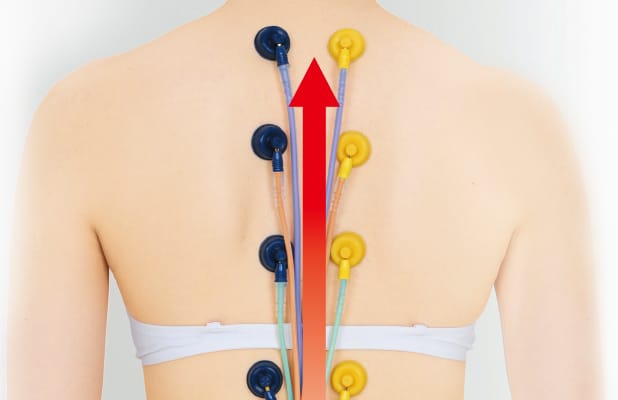 Mode that use 2 or more groups of electrodes. Valid for the treatment of comparatively large areas.
Auto D (EMS mode)

This is the mode that promises benefits in promoting muscular strength. Reduces losses of muscle strength during treatment recovery period.
APS mode
By changing the treatment frequency, you can correct differences in the sense of stimulation and a more comfortable stimulation can be maintained.
High voltage treatment mode
By sending an extremely short twin peak pulse into the body at high voltage, the electric resistance of the skin is greatly reduced and the electric stimulation reaches the deeper structures and helps to excite the deep structure nerves.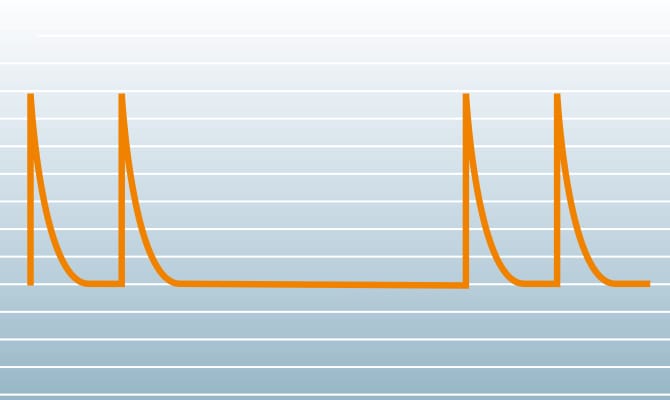 Remote control function OPTION that can be operated from a separated location
option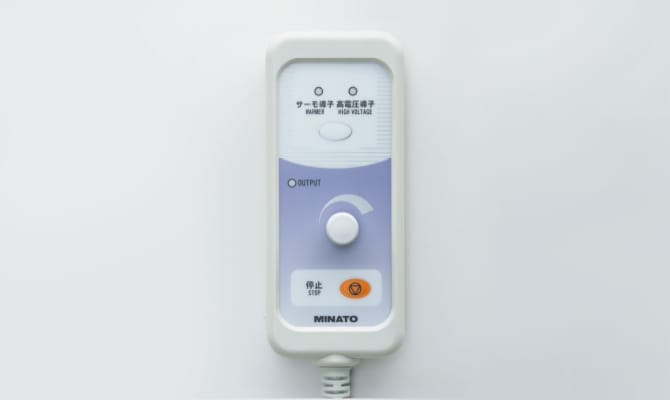 A remote controller can be attached to channel 1 and channel 12 that use high voltage electrodes and thermo electrodes. This is convenient when you want to control the output around the treatment area in the case of high voltage treatment etc.
Treatment electrodes can be selected from a rich lineup
Depending on the state of treatment area, the lineup of suction electrodes includes 3 types – large, protruding "round-type electrodes A", minimally protruding "round-type electrodes B" and flat-shaped "flat-type electrodes". Round-type electrons have a smooth protruding shape where they come into contact with the skin and the stimulation feels strong in the central section. Flat-type electrodes can provide a smooth sense of stimulation by inserting gel within the skin. In addition, there are adhesive electrodes, thermo electrodes and high voltage electrodes, and greater treatment benefits can be achieved by selecting these according to the symptoms and treated area.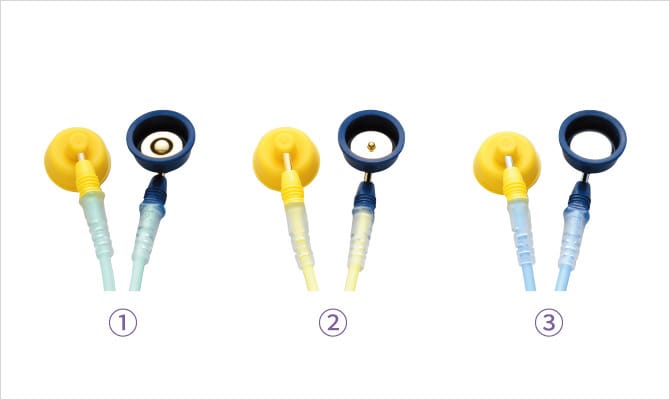 Adhesive electrodes

option

high voltage electrodes
Safety is also improved
Over current control function
The output current is controlled so that it does not exceed the maximum current value.
Voice message
Mishandling is prevented with voice guidance.
Electrode peeling detection function
When detachment of the electrode or incomplete attachment of the electrode are detected, this is notified by sounds and lights.
Current increase control
Prevents increased current due to sweating.
Treatment display LED tower that lets you know the end of treatment with one glance
option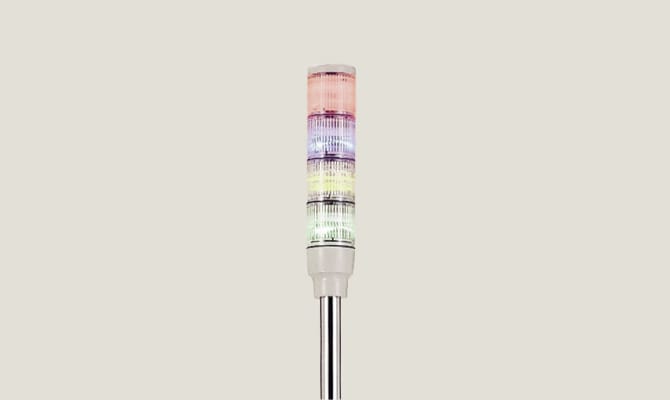 Channel usage state and end of treatment is displayed using LED. This can be confirmed from a separated location.
Groups are set flexibly depending on the treated area
By outputting 12 channels, a maximum of 4 groups, 4 people can be treated simultaneously. Whereas until now it was fixed at 1group and 3channels, it can now be flexibly selected from 1- 6 channels per 1 group, and these can be used differently depending on the treatment content.

Compact and gentle design
The design has adopted beautifully harmonized pastel colors on a slim body. The Maxkine has condensed a limitless array of advanced technologies into its compact body. High performance despite its soft image. Spreading an image of gentility across the medical field.
Main specification
Maximum output voltage
300Vpeak ±15%
Maximum output current
40mArms±25%(at 500Ωload)(*1)
200 mApeak±25% (at 500Ωload)
Treatment frequency
1 to 1000 Hz
Pulse width
50μsec・100μsec
Treatment waveform
bidirectional symmetrical waves/unidirectional dual waves
Treatment time
1 to 99 minutes
Powered on time
1 to 9 seconds
Rest time
0 to 5 seconds
Maximum suction pressure
20±7kPa
Number of output channels
12 channels
Safety function
output over current protection circuit,zero start circuit,thermo electrode over current protection element
Treatment mode
normal, sweep, mix, rhythm, auto A/B/C/D
Additional treatment function
APS mode
Main Supply
110Vac, 220Vac / 50/60 Hz
Power input
250VA
Dimensions
width560×depth440×height1240(mm)
Weight
54kg
*1 rms is an abbreviation for root mean square.