The Aquatizer [QZ-240] received the Good Design award for 2012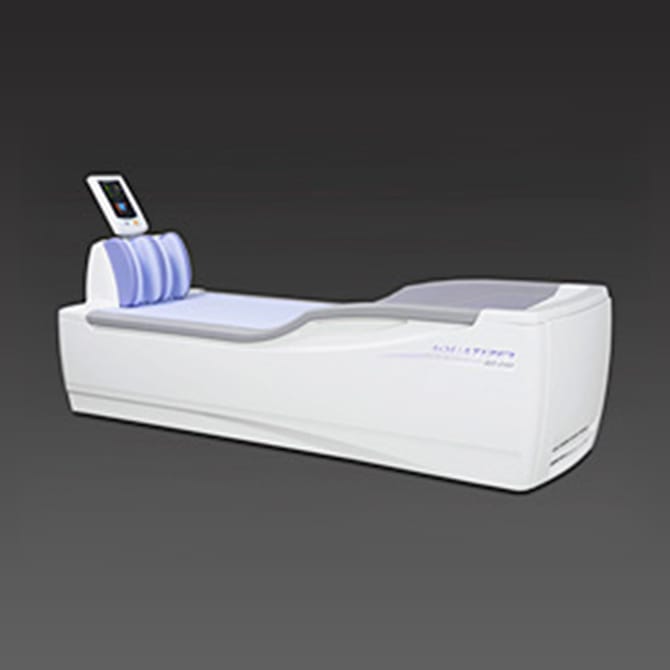 Award number
12GC10948
Classification
Devices / equipment for research / education / medicine
Application target name
Dry hydro Jet massage bed
The Aquatizer [QZ-240]
Enterprise body name
Minato Medical Science Co., Ltd.
Product overview
The bed-type massage apparatus "Aquatizer QZ-240" in addition to the sense of floating it provides as a water bed type, provides a strong, comfortable and high quality massage applying the fluid characteristics of "water". Including a variety of new functionality, such as a far-reaching sense of stimulation through its 4 nozzle, a foot area airbag that supports a stable treatment environment and the automatic height setting that decreases the effort required by medical staff, it supports efficient health care and management.
Evaluation comments from the judging committee
The various points of relaxation learned from long experience, such as foot massages using airbags and height measurement sensors, have been concentrated in this treatment device, giving a feeling of perfect completeness. Using a distribution nozzle design that envelops the entire body, it provides a supreme level of comfort, and has many aspects that medical devices will look to implement moving forward.
Consideration has been given to ridding the device of that sense of intimidation on a functional level with the grip used for standing up that has been set in the concave part of the bedside. The design, which has a truly gentle feel with its smooth, simple design and coloring, was very well received.