Autospiro [AS-307/407/507]

Characteristics
COPD
Features
Product specification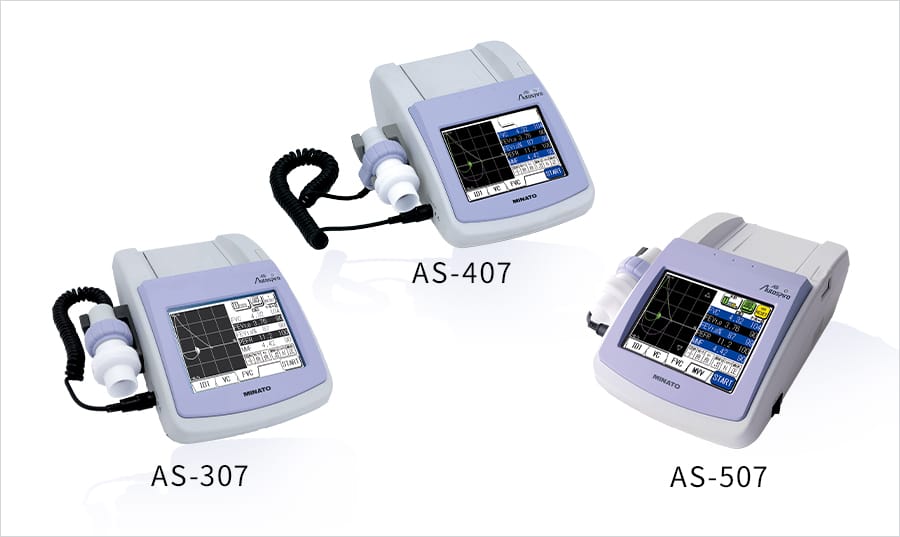 For early detection of lung lifestyle-related diseases...
Incorporates high functionality in a simple form
This makes cutting-edge screening examinations possible.
B5 size compact body. Fits perfectly in a desk.
※Excluding transducer holder
This corresponds to the lung age display from the Japanese Respiratory Society.
Hainenrei.net home page(http://www.hainenrei.net)
GOLD conforming staging classification-display possible.
This complies with the guidelines concerning the Japanese Society of Ningen Dock health check result judgment and follow-up guidance.
Adopts the pneumoconiosis health diagnosis judgment criteria
Lung function examinations by the Pneumoconiosis Law and judgment of examination results etc.(Labor Standards Bureau Notification No. 0628-6 dated June 28, 2010)
Adopts the Japanese child spirogram reference value(http://jspp1969.umin.jp/ind_img/spirogram.pdf)
Uses large-scale LCD
With an easy-to-understand large color display on the LCD, recognition is greatly improved. (307 is black and white)
Uses an easy-to-operate touch panel
Operability is greatly improved through the adoption of a touch panel. This can be simply operated by merely touching the icon display button with your fingertips.
Uses a judgment bar on the measurement results screen
Displays a general judgment bar and FVC bar on the measurement results screen. In the general judgment bar, the classification of staging and ventilatory function impairment based on GOLD is possible. The FVCjudgment bar displays the judgment results such as effort levelfrom ATS.
Reliability of data and screening results can be confirmed at a glance. By touching the general judgment bar or FVC judgment bar, this detailed screen can be displayed.
From the FVC judgment bar detailed screen, the level of effort and possibility of reproducibility at the time of FVC measurement based on the ATS standard, and on the general judgment bar detailed screen, the staging classification results, ventilatory classification and BD judgment based on GOLD are displayed.
Do you know about lung lifestyle-related diseases....?
In recent years, COPD (*1) has been gaining attention as a lung lifestyle-related disease.
The main cause of COPD is habitual smoking and it is sometimes referred to under the different name of "smoking disease". There are said to be 5.3 million potential patients in Japan and it ranks 4th in the world in terms of cause of death.
Whereas heart disease and cerebrovascular disease are on a downward trend, only COPD is on the increase, so GOLD (*2) are creating international guidelines and promoting countermeasures. Among these, examination methods using a Spirometer and disease phase classifications have been stipulated.
※1

COPD: Chronic Obstructive Pulmonary Disease.

※2

GOLD: Global Initiative for Chronic Obstructive Lung Disease
Early detection using a Spiro examination is important
As COPD is a progressive illness, it is said that detecting it early and preventing the progression of the lesion is important. Further, the Spiro examination is the most effective method of examination for discovering it at an early stage.
Middle-aged and elderly smokers and those with symptoms of breathlessness, coughing and phlegm should first undergo a Spiro examination
COPD is known as smoking disease and it is recommended in particular that middle-aged and elderly smokers or those with a history of smoking should have Spiro examinations on a regular basis.
Spiro examinations are important in the management of asthmatic patients
Spiro examinations are also useful for selecting asthma treatment methods and judgment.
COPD staging classification based on GOLD
The GOLD staging classification is judged using forced vital capacity, forced expiratory volume in 1 second in the FVC examination as well as the predicted value.
| | |
| --- | --- |
| FEV1.0/FVC(%) | 1 second forced expiratory volume rate (forced expiratory volume in 1 second/forced vital capacity) |
| %FEV1.0(%) | % forced expiratory volume in 1 second (forced expiratory volume in 1 second/predicted forced expiratory volume in 1 second) |
The staging classification is judged from the 2 measurement values and summarized in the easy-to-understand way shown in the table below.
COPD staging classification (2003 edition)
| | | |
| --- | --- | --- |
| 0: At Risk | FEV1.0/FVC ≧ 70% | Spirometry is for normal chronic symptoms(cough, phlegm) |
| I:Mild COPD | FEV1.0/FVC < 70% | FEV1.0 ≧ 80% predicted regardless of whether there are chronic symptoms(cough, phlegm) |
| II:Moderate COPD | FEV1.0/FVC < 70% | 50% ≦ FEV1.0 < 80% regardless of whether there are chronic symptoms(cough, phlegm) |
| III:Severe COPD | FEV1.0/FVC < 70% | 30% ≦ FEV1.0 < 50% predicted regardless of whether there are chronic symptoms(cough, phlegm) |
| IV:Very Severe COPD | FEV1.0/FVC < 70% | FEV1.0 < 30% predicted or FEV 1.0 < 50% predicted with chronic respiratory failure |
Function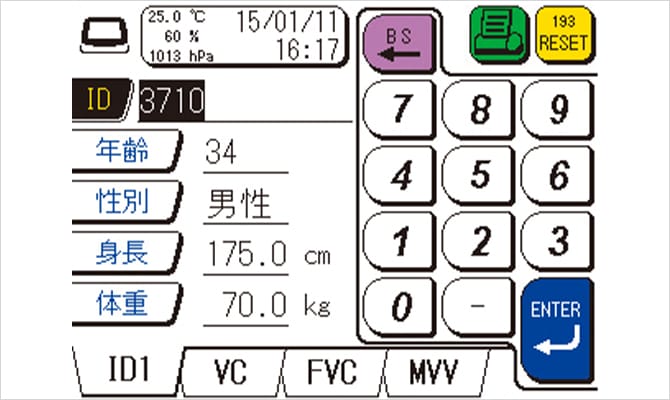 Through the large, easy-to-view display and touch keys that can be switched for each input item, it is easy to input the ID items.
MVV measurement screen (AS-507 only)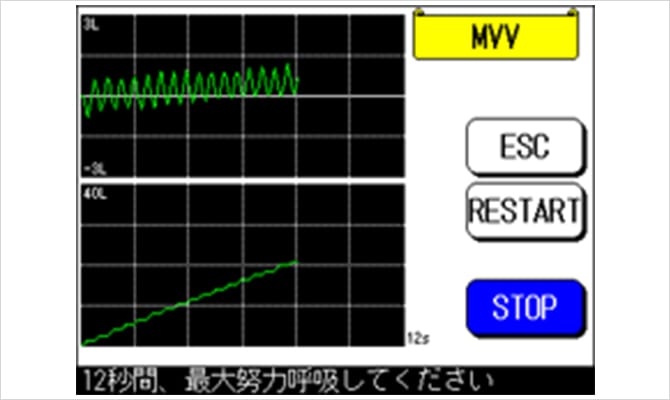 The tidal volume and integrated quantity are displayed simultaneously.
Even if the measurement is stopped midway, the data up until the stipulated time is extrapolated and calculated.
VC measurement screen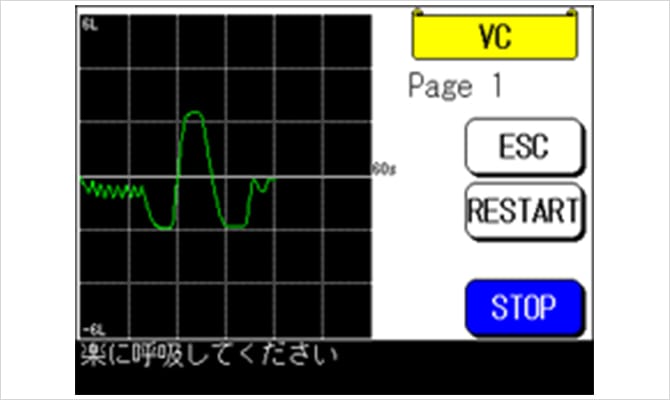 Directions are displayed in a timely fashion during the measurement. The measurement can be automatically completed.
Using the latest VC measurement algorithm, more accurate measurement is possible.
FVC measurement screen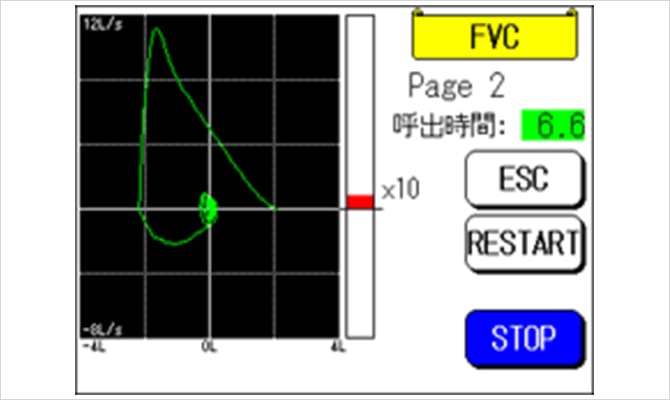 The call time and the flow using flow display bar are displayed.
Where the flow decreases, the display will automatically expand and can be called until the end.
In addition, it is possible to check the effort level specified by ATS and obtain highly reliable data.
ATS compliant new design transducer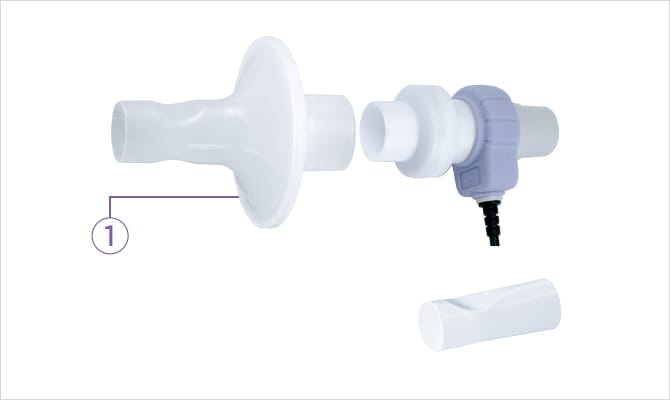 Transducer that is compact, light, easy to operate and easy to carry. High accuracy (shipment standard:
indicated value ± 3%) hot wire type.
Clean air filter with built in electrical air filter for preventing infection.
Made of high quality resin to fit gently in base of mouth and enable patients to be examined without discomfort.
Accuracy management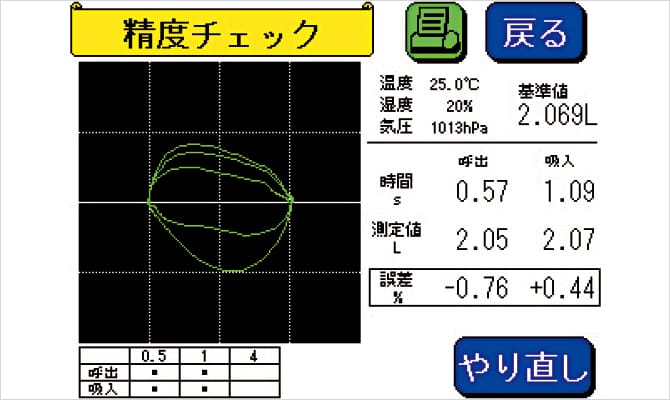 Accuracy management is important in order to leave correct measurement results. Includes accuracy management functions based on Japanese Respiratory Society guidelines.
Printer speed 3 times that of before! Loaded with a high speed thermal printer
Print speed of 3times was achieved compared to others in our company. Paper transfer is a simple immersion type.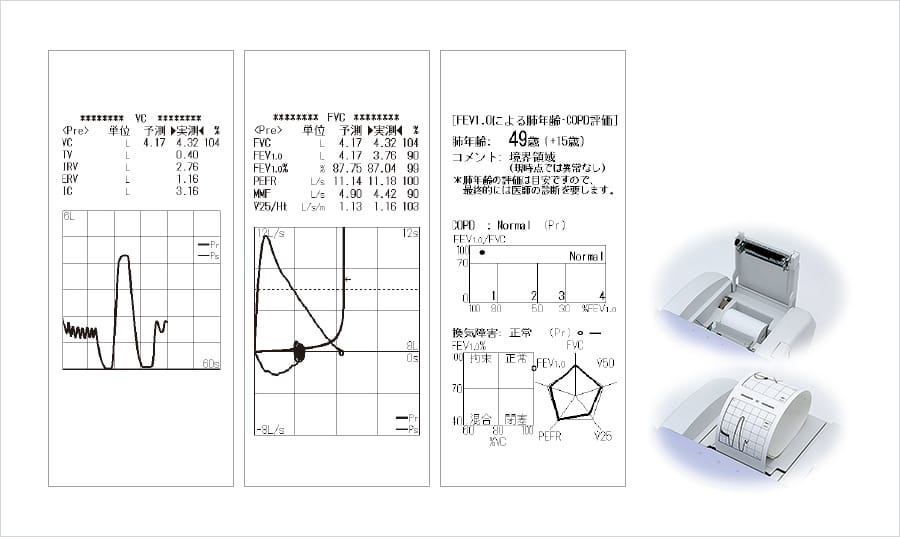 Extended example (AS-507 only)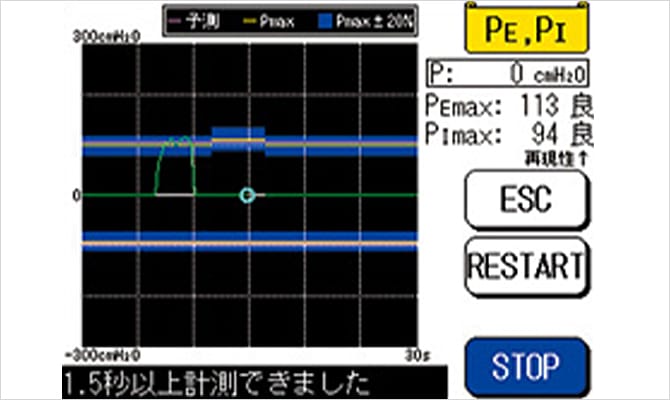 Respiratory muscle strength measurement unit
By connecting to the respiratory muscle strength measurement unit, the following items can be measured.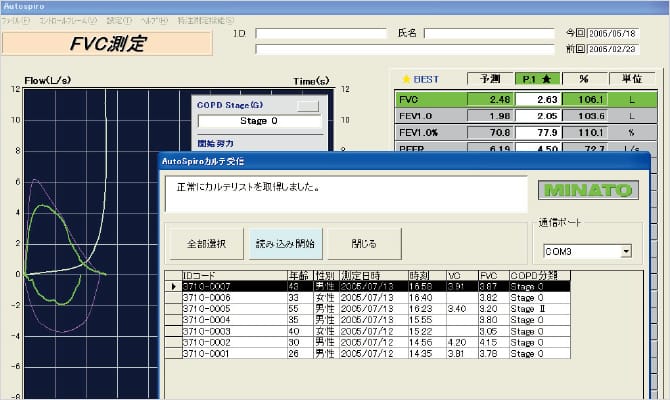 Chart filing system
Realizes printing, database functionality for creating A4 reports. (Includes a dedicated PC system.)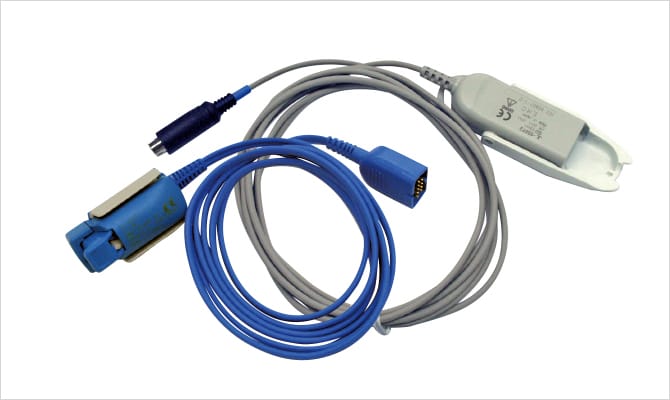 SpO2measurement unit
By connecting to the SpO2measurement unit, it is possible to measure SpO2
主な仕様
AS-307
AS-407
AS-507
Classification of protection against electric shock
Class 1 Type B
Main Supply
100-240Vac 50/60 Hz
Power input
60VA
External dimensions
width 230 × depth 274 × height 100 (mm)
Includes transducer holder section
Weight
1.5kg
flow transducer
Hot wire
Measurement range
Flow:0~14.0L/s
Volume:0~10.0L
Measurement accuracy
Volume:within ± (3%+0.01L) of indicated value
Display device
Monochrome LCD
Color LCD
Printer
line thermal format paper width 57.5 (mm)
Other specifications
AS-307
AS-407
AS-507
Measurement items
VC measurement
Pre:page 3 Post:page 3
FVC measurement
Pre:page 3 Post:page 3
MVV measurement
×
×
Pre:page 1
Post:page 1
MV measurement
×
×
page 1
GOLD conforming staging classification-compatible
Measurement memory (number of people)
10
100
200
Outside Drawing