Characteristics
Features
Product
specification
With the battery-operated lineup and specialized wagons with excellent functionality, they can be easily moved to the location of the patient.
The Minato Medical Science's boots-type air massager LUXAIR massages the leg areas by increasing and decreasing pressure for 5 air chambers on one side within the boots. With 4 types of massage mode, therapy matching the symptoms can be performed. The excellent transportability enabling movement to the necessary location at the necessary time proposes a new style of therapy.
Main Features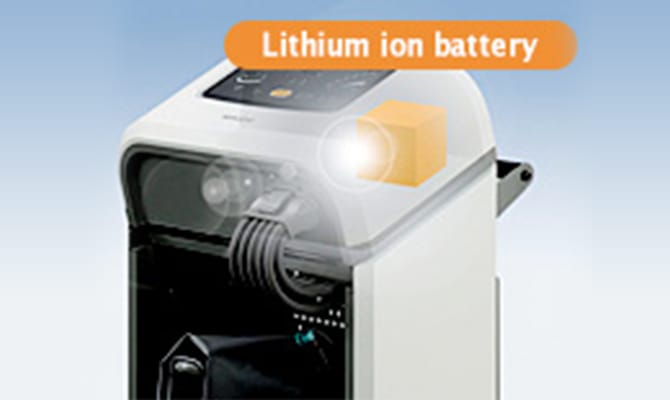 Built-in a lithium-ion rechargeable battery
Previous air massagers were AC power-operated only, but the Minato Medical Science's "LUXAIR LX-H1" includes battery-operated models in the lineup in addition to AC powered models. Through the built-in a lithium-ion battery, the air massagers can be freely moved to and used at the location of the patient with its therapeutic benefits unchanged.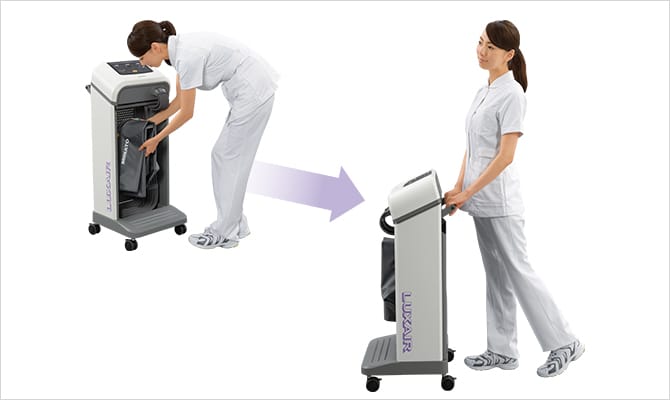 Specialized wagon with excellent functionality
・Moving around is easy
Equipped with specialized wagon with casters. The device can be simply moved easily and smoothly to the location where the patient requires treatment, such as chairs, tre
・Neat storage of boots
Boots and hoses can be stored neatly inside the specialized wagon. As be up to now, there are no cases that boots touch a floor and become dirty, and this enables things to be kept neatly in order after therapy.
Using the battery-operated model, therapy can be performed with the device moving flexibly to various locations
1.There is no need for the patient to move, so no burden is placed on the patient.

2.Therapy can also take place in areas without sockets, such as the center of the rehabilitation room.

3.This can be used in the hospital ward, moving from hospital room to hospital room.
Function introduction
Promoting blood flow through efficient massage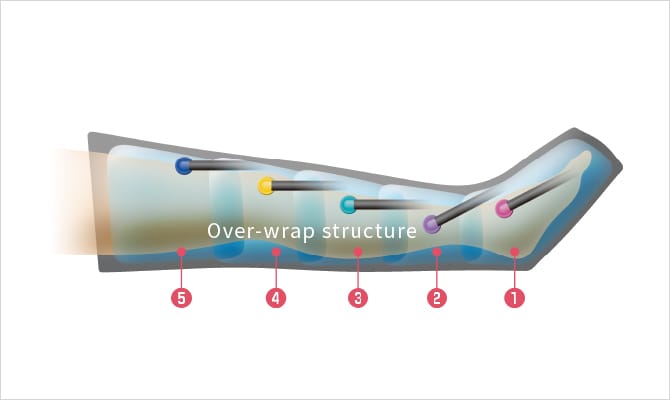 Five air chambers are allocated on each side within the boots for a well-balanced cuff with a total of 10 air chambers. Pressure is increased and decreased repeatedly while gently wrapping the whole leg area from femur to the dorsum. Using this massage, the back-flow of lymphatic fluid and venous blood is stimulated with the same action as muscle contraction and relaxation. It has also employed the latest air pressure control system that can increase and decrease pressure simultaneously on 5 air chambers. Combined with the ideal air chamber structure, massage benefits can be achieved even at low pressure, and therapy matching the symptoms can be performed without placing any burden on the patient.
4 types of massage mode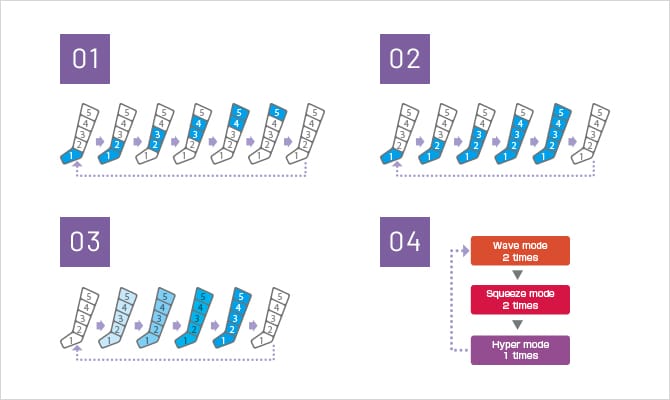 Wave mode

Pressure can be increased in sections from the tips of the feet to the thighs.

Squeeze mode

Pressure can be increased in order from the tips of the feet to the thighs,and decreased on all chambers together.

Hyper mode

Pressure is increased or decreased on all chambers together.

Course mode

Mode that combines 3 modes.Repeats operation of "wave x 2 → Squeeze x 2 → hyper x 1."
Four types of massage mode. In addition to "wave mode" that rubs in a wave form from the tips of the feet to the thighs, "squeeze mode" that increases pressure in order from the tips of the feet upwards and "hyper mode" that pressurizes the whole parts simultaneously, "course mode" combining all 3 modes has been established. This can be selected in accordance with the symptoms and condition of the patient. When changing the mode during therapy, the new mode will come into operation after the pressure is first decreased.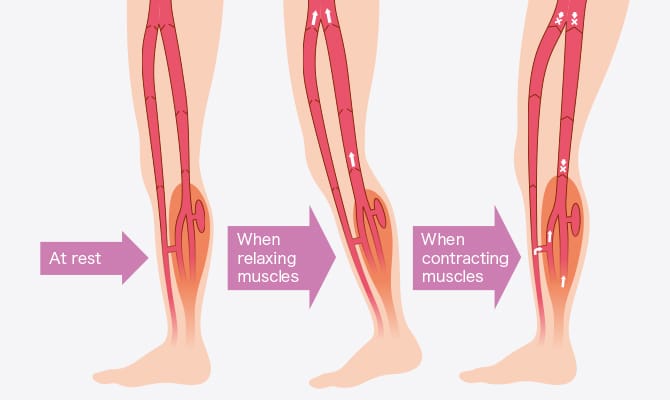 As the legs are far from the heart and in the lower area,they are an area in which blood flow can be easily decreased.Walking exercises the "calf" muscles and promotes the action of pushing venous blood fluid that is pooled in the lower bodies to the heart,thus increasing blood flow in the legs,This also improves general blood flow.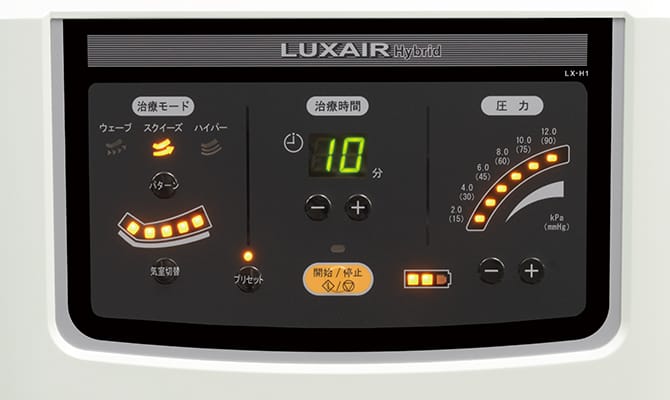 operating panel
The operating panel has adopted a display using LED with excellent visibility. Behavior information, such as massage mode, timer set time, pressure, number of air chamber is displayed in an easy-to-understand way.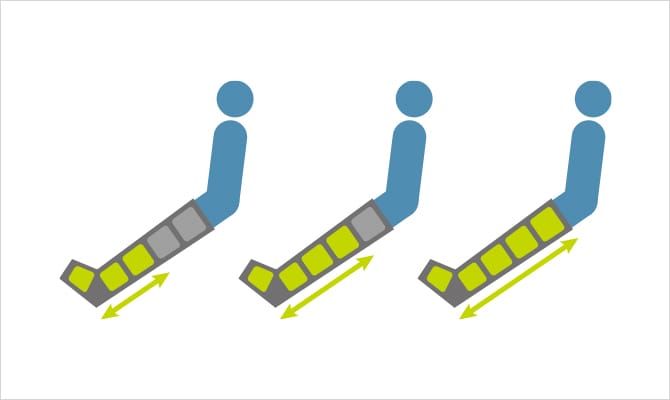 Increasing and decreasing air chambers in line with body type and symptoms
The cuff with 5 air chambers on each side is designed so pressure can be increased and decreased in 3 stages of 5/4/3, in order for therapy matching the body type and symptoms of each patient to be carried out smoothly.
This enables the provision of therapy optimized for smaller people or those wearing skirts. It is also possible to massage your calves in a concentrated way.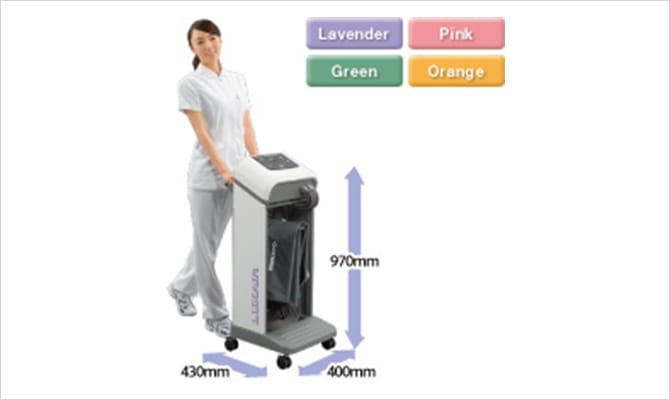 Release of 4 colors that can be color-coordinated
Minato Medical Science has proposed color coordinating of the rehabilitation room, using its original color order system.
With the LUXAIR as well, the 4 colors of lavender, pink, green and orange have been provided for the logo mark section, to enable total coordination.
Main specification
Power-related
Main Supply
100Vac 50/60Hz
Rated power consumption
82W
Battery
Lithium-ion battery (DC11.1V/2,500 mAh)
Charging time
Approximately 1 hour
Continuous operation time
Approximately 2 hours (initial function)
Performance
| | |
| --- | --- |
| Pressure adjustment | 6 levels (2.0 kPa~12.0 kPa [15- 90 mmHg]) |
| Rated time | 30 minutes |
| Timer setting time | 1-30 minutes (adjustable in 1 minute units) |
| Massage mode | 4 types (wave/squeeze/hyper/course) |
| Other functions | Antibacterial cloth 5 air chamber boots overwrap structure/adopted 10C coil fastener/air chamber switchover function (boot length can be adjusted in 3 levels)/AC inlet type power cord (2.5 m)/preset function |
Main unit dimensions and unit weight
| | |
| --- | --- |
| Dimensions | Width 400 × depth 226 × height 194 (mm) |
| Weight | 5.8kg |
| Safety functions | Self-inspection (sensor hose removal, breaks)/pressure error detection/battery error detection (over-charging, over-discharge, over-current)/pressure switch at time of PC error/exhaust at electric power failure |
*There are types (LX-1) without batteries or air chamber switching functionality.
Out-side Drawing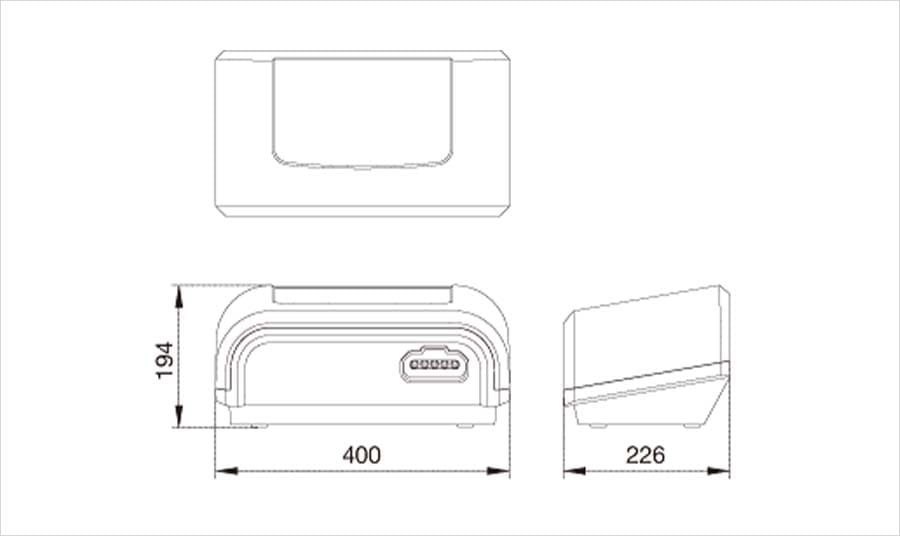 Please press Inquiries Form button
to contact us by e-mail.