Characteristics
Features
Product
specification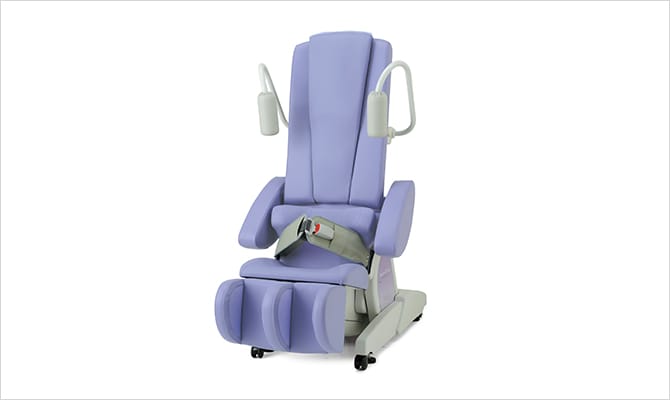 Addition of New Functions to "Super Trac ST-1L"
Realizing high functionality that is kind to people, through consideration for patients and a large-scale reduction in the effort required by medical staff.
Traction while simply sitting on the chair.
It is difficult for patients with lumbar pain to adopt the dorsal position...
Can't the setting of the equipment be made more simple?
Our response to the various feedback we received from our customers is the "Super Trac ST-2L" that can provide traction treatment while the patient sits in the seat.
Automatically sets the ideal traction treatment position, to realize efficient treatment.
Further, there are only 2 settings required before starting treatment.
The "Super Trac ST-2L" is a more highly evolved traction device for our patients and staff.
For treatment suitable for the patients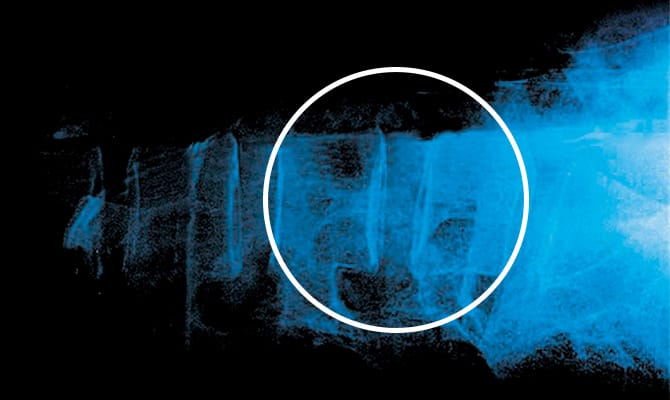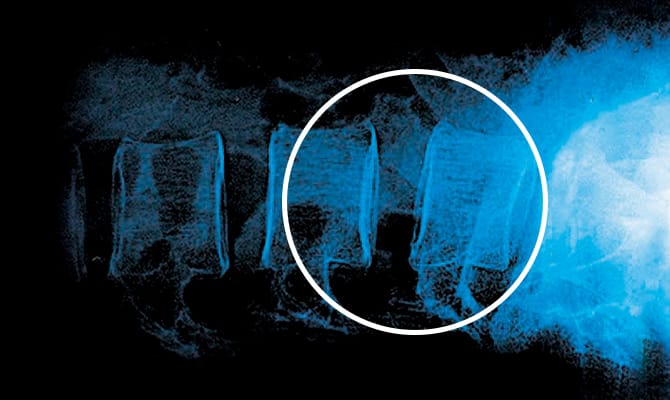 Traction treatment method and position during traction
Traction treatment includes lumbar traction (pelvic traction) and cervical traction. The benefits promised by this method of treatment include improving muscle spasms in the traction area, massage benefits through intermittent traction and, by assisting in inter-vertrebal opening, lowering impact on nerve compression. With lumbar traction, it is desirable, at the time of treatment, to relax the hip and buttock muscles, and perform traction in an anteflexion posture that sufficiently bends the hip joint and knee joint. With "Super Trac ST-2L", a seat shape has been adopted in which the posture appropriate for the treatment can be easily obtained and innovations have taken place to ensure that traction treatment can be performed efficiently.
3 evolutions focusing on traction position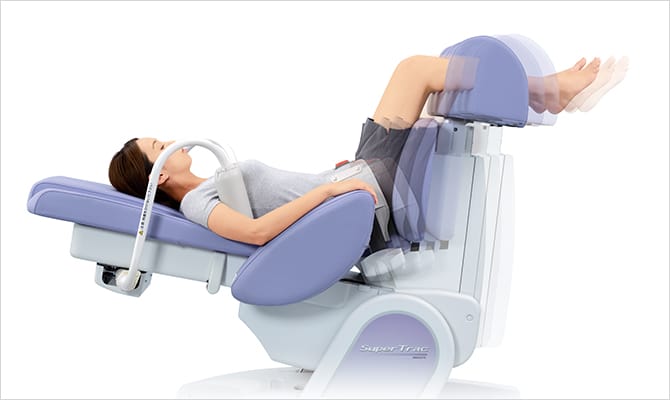 Ideal traction angle by using the automatic slide Ottoman
Through further scientific study of posture, we have achieved an even better traction posture. By automatically sliding the Ottoman, it is possible to treat patients of various height differences in a stable manner. Further, the Ottoman can be extended and retracted as you desire with just one touch.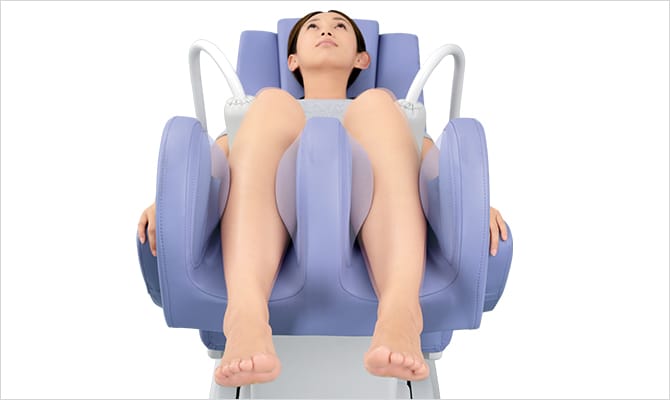 Leg hold function for maintaining a stable posture
Increased support for the feeling of being held, wrapping your legs in the power of soft air. By controlling with pressure sensors, it is possible to hold it at a fixed pressure regardless of the thickness of the legs, and adjust the hold strength in 3 stages. This promises relaxation benefits linked to the traction operation.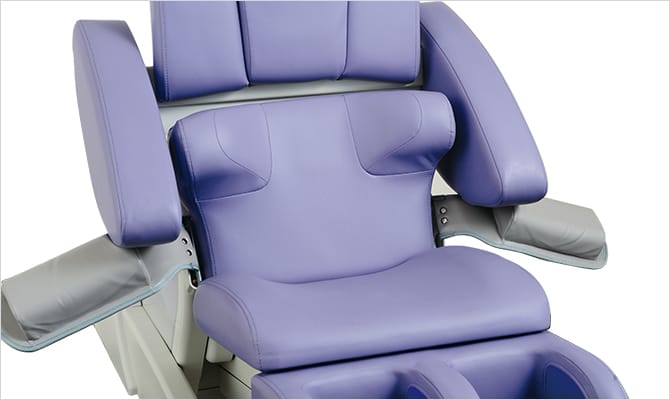 Lumbar mat focusing on the feeling of being held
The lumbar mat has adopted a deep form that gives the impression of wrapping your pelvis. Further, a heater is built in to the lumbar mat to provide a comfortable level of treatment.
Merits to patients
Treatment starts by just sitting on the chair
Auto-switching arm mechanism in which the side arm can be automatically attached and removed
With the Minato-original swing arm mechanism, an auto-switching arm has been adopted in which an arm is automatically attached when starting treatment, and automatically removed when the treatment ends. (Compatible height: approximately 140-185cm)
Voice guidance is provided for the treatment procedure
An explanation of operations, such as "the seat reclines" etc. is given by voice guidance. This gives peace of minds to patients receiving treatment for the first time. Further, relaxation sounds are played during treatment to ease anxiety about treatment.
Set the seat height so that it is easy to get on and off
With the low seat and automatic retraction of the Ottoman, it is easy even for shorter people to get on and off.
Merits to medical staff
Large-scale reduction in setting work
Compared to the previous horizontal traction equipment, setting can be completed in a mere two stages. This contributes to a reduction in the work time of busy medical staff.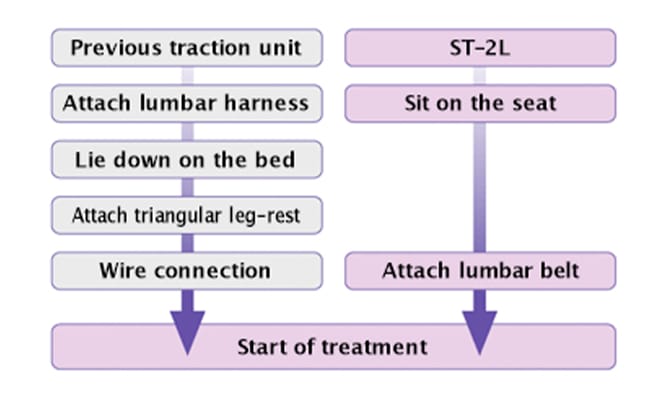 Further alleviation of setting work with automatic belt winding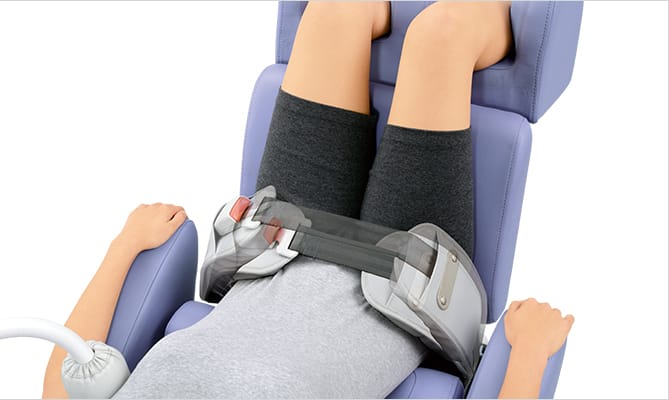 The belt is simply attached by fitting the metal belt fittings in the buckle. When in the treatment posture, the automatic winding system automatically winds the belt and adjusts the tightening strength. The tightening strength can be adjusted in 3 levels. Further, by linking this to a tightening traction pattern, it is possible to avoid excessive pressure and perform treatment in a comfortable manner.
Large-scale display operating panel that is easy to view and handle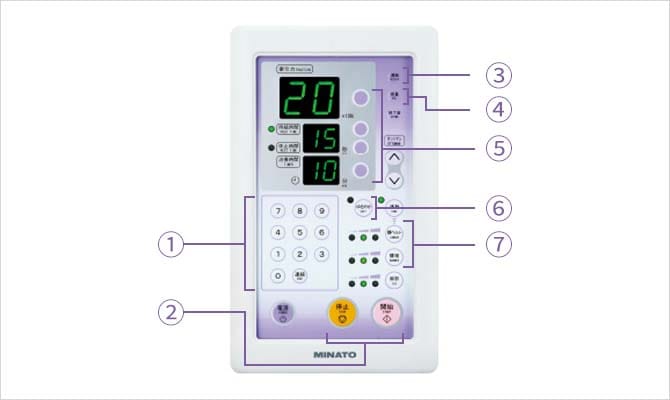 Operating panel with an easy-to-view large-scale digital display. Necessary items with traction force and various setting items can be confirmed with a single glance. The setting keys are also independent in line with each display window, making setting and confirmation simple. Further, the operating panel stand position is higher, be improving operability.
Safety function to prevent accidents
After treatment has ended, even if somebody enters by mistake from the bottom of the chair while the seat is upright, this will be detected by the sensor. Due to this function, it's possible to prevent people's trapping from happening.
Main specification
Classification of protection against electric shock
Class I
Type B
Main Supply
110Vac, 220Vac 50/60Hz
Power input
260VA
Traction force
50-to 990N(5.1-to 101kg) 10N unit
Traction method
Intermittent traction and sustained traction
Treatment timer
1-to 99 minutes or continuous (1 minute units)
Traction continuation time
0-to 99 seconds or continuous (1 second units)
Traction rest time
0-to 99 seconds (1 second units)
Safety function
Safety remote control switch
Abnormal operation detection circuit (including entrapment detection circuit)
Main unit dimensions(excluding operation section)
Width 720 x depth 1,400 (1,560) x height 1,445 (mm)
Weight
149kg (153kg)
Number of certification
220AGBZX00018000
classification
Controlled medical devices/ the specially designated maintenance control required medical devices
JMDN code
14106002
Out-side Drawing