Weltonic Series [WTS-02i]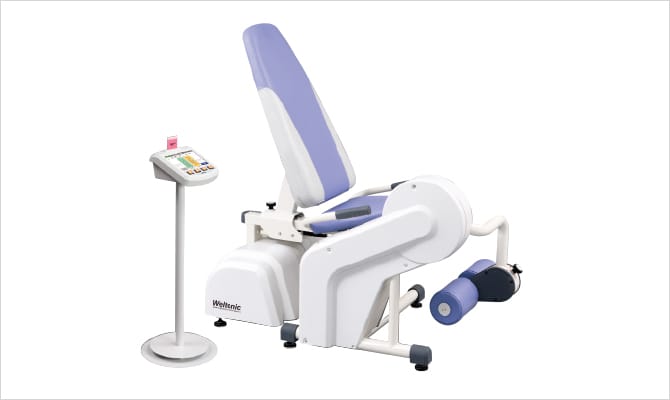 Training Load 20~500N 2~50kg
Leg extensions [WTS-02i]
The range of motion of the knee joints is often small in elderly people. These exercises strengthen the musculus quadriceps femoris, especially the vastus medialis, thereby increasing the range of motion and length of stride, stabilizing the knees, and enabling individuals to climb stairs easily.
Characteristics
Muscles trained

1) musculus quadriceps femoris
Adjustment of the backrest position

Adjustment of the pad position

Adjustment of the initial angle
Footrest(Sold separately)[KDA6508/L]

Immobillze thighs and trank.(Option)[RAM763]
Support movement ability assessment with WBI.
WBI measurement is now possible with the WTS-02i.
Settings that are appropriate for the individual user's body type can be set easily, and accurate measurements taken. Previous positioning can be reproduced with a high degree of accuracy, making it possible to accurately evaluate the degree of improvement compared to previous measurements.
WBI: Weight Bearing Index
Weight Bearing Index is used to evaluate the motor function of the lower limbs, calculated by dividing the maximum voluntary contraction (MVC) of the knee joint extensors by body weight. It is an absolute value that is universally applicable to both men and women of all ages, and this convenient index is easy to understand and measure and can be used for a range of purposes, from setting targets to evaluation.
Main specification
Model
Weltonic WTS-02
Rated supply voltage and frequency
Single-phase 230Vac, 50 Hz
Power input
600 VA
Protection against electric shock
Class I, type B
External dimensions
Width 785 mm
Depth 1,320 – 1,450 mm
Height 1,220 mm
Weight
83 kg
Trained muscles
Musculus quadriceps femoris
Load setting
20 – 500N / 2 – 50kg
Accuracy at indicated as N :±5%F.S.
Muscle strength measurement
100 – 850N / 10 – 85kg
Accuracy at indicated as N :±5%F.S.
Setting of the number of repetitions
Count down 1 to 100 times
Count up 1 to 100 times
Accessories
2 × WTi Card
Outside Drawing