Weltonic Series [WTS-01L]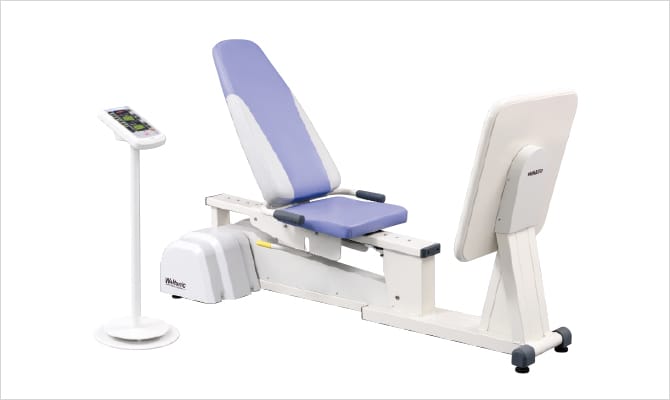 Training Load 50~1200N 5~120kg
Leg press [WTS-01L]
The machine trains and strengthens the leg muscles necessary for movements in our daily lives such as standing up, sitting down, squatting, and walking. The foot harness and motion of the seat enables an exercise that closely mimics actual movements.
Characteristics
Muscles trained

1) Muscles quadriceps femoris
2) Muscles gluteus maximus
3) Hamstrings
4) Muscles triceps surae
Since it is able to respond to rapid motions, it feels similar to training on a weight-type machine.
The harness for the feet has been removed to make it easier to ride on the machine.
The soft material at the lumbar part of the seat's backrest eliminates pressure on the lumbar spine.
Scale makes setting heel position easy.

The position of the chair can be adjusted according to body size.
Main specification
Model
Weltonic WTS-01
Rated supply voltage and frequency
Single-phase 230Vac, 50 Hz
Power input
600 VA
Protection against electric shock
Class I, type B
External dimensions
Width 650 mm
Depth 1,800 mm
Height 1,130 mm
Weight
110 kg
Trained muscles
Musculus quadriceps femoris, musculus gluteus maximus,
hamstrings, musculus triceps surae
Load setting
50 – 1,200N / 5 – 120kg
Accuracy at indicated as N :±5%F. S.
Muscle strength measurement
200 – 2,000N / 20 – 200kg
Accuracy at indicated as N :±5%F.S.
Setting of the number of repetitions
Count down 1 to 100 times
Count up 1 to 100 times
Outside Drawing